QuickBooks Compatible Mobile Forms For The Service Program
The Service Program has years of experience developing custom QuickBooks™ compatible mobile forms for the service industry. Mobile forms allow you to efficiently manage your service and route management business thus increasing employee productivity, profitability and revenues.
•Capture information electronically with mobile forms that look exactly like your current paper forms
•No more paper documents to employees
•Eliminate scanning and saving documents
•Allow employees to exchange information on jobs with the ability to transfer forms, and sign-off requirements
•Information captured on your forms is stored in an easy-to-use database
•Get immediate access to all completed forms and detailed information
•Export data and forms to a PDF file
•Forms work on any mobile device
•View data for any form online
•Create reports using any field on any of your forms
Other Features And Benefits:
•Replace all your paper forms
•Improve employee responsiveness and productivity
•Consolidate information with mobile devices
•Improve efficiencies and streamlined business processes
•Lower operational costs
•Increase revenues and profits
•Plus much more
Scroll over the images below to view the mobile forms
Get information about the many benefits of The Service Program and how it can help organize and grow your service business.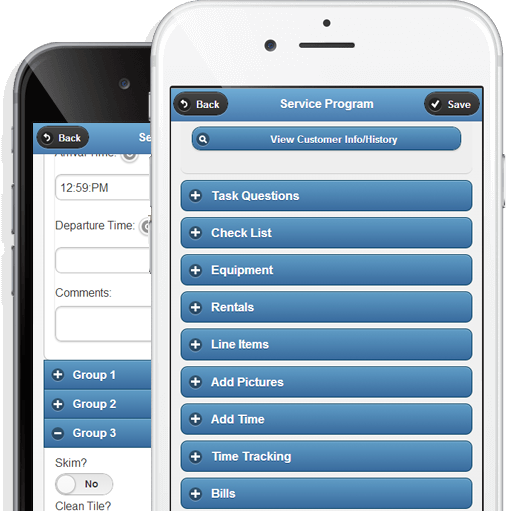 What are you waiting for!
Order The Service Program today.
Your success is important to us. We guarantee your satisfaction with superior software integration, free weekly training and yearly support.