Mobile Field Service Software
Mobile Field Services Software That's QuickBooks Compatible
Why You Should Choose Mobile Field Service Software
•The leading QuickBooks™ compatible mobile field service software
•Seamless integration with QuickBooks
•Field service software that is compatible with mobile devices like iPhones, iPads, and Android devices
•Track material usage, view last stop history and enter arrival/departure times
•Manage your service department and create recurring services
•Customer Portal where customers can report problems, make payments and see service history
•Track equipment repairs with QR Codes and more!
•A software program designed for mobile field service companies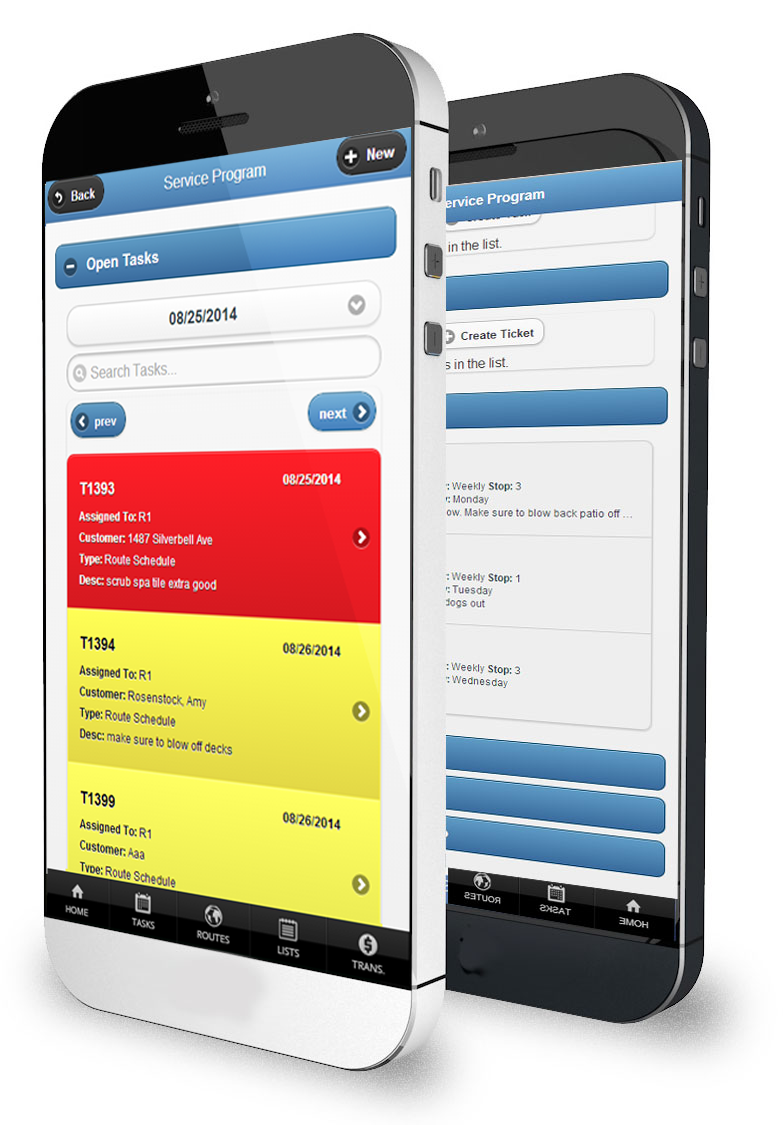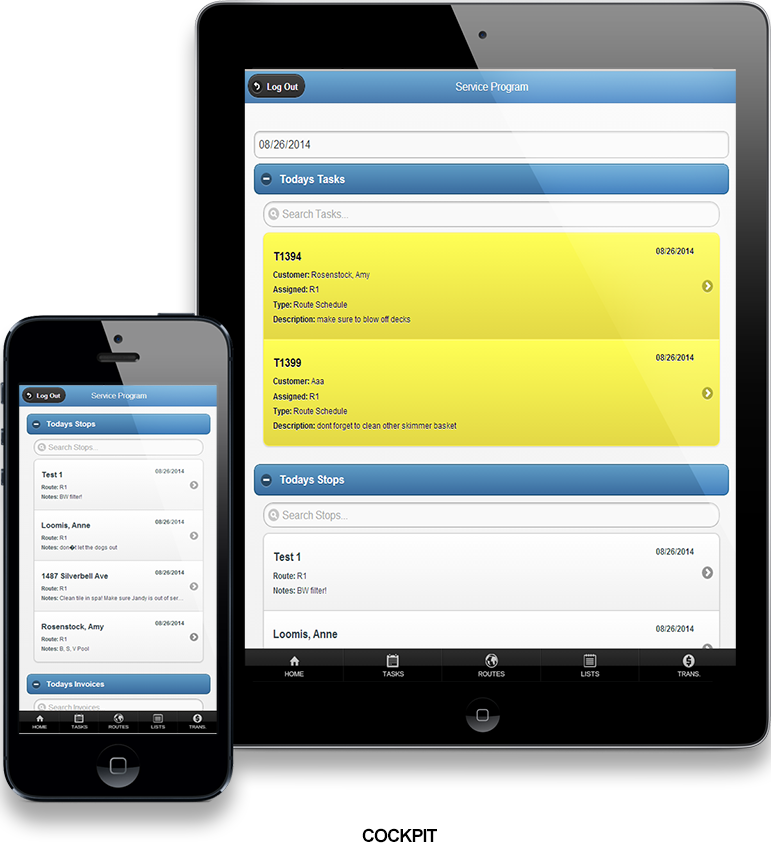 Cockpit
• Shows work to be performed today within the maintenance software
• Whenever a tech creates or modifies a transaction his location is logged via GPS so you can see where your techs have been
Route Schedule
•Limit who can see which stops within our service management software
•Ability to change route (based on security)
•Easily see which stops have been completed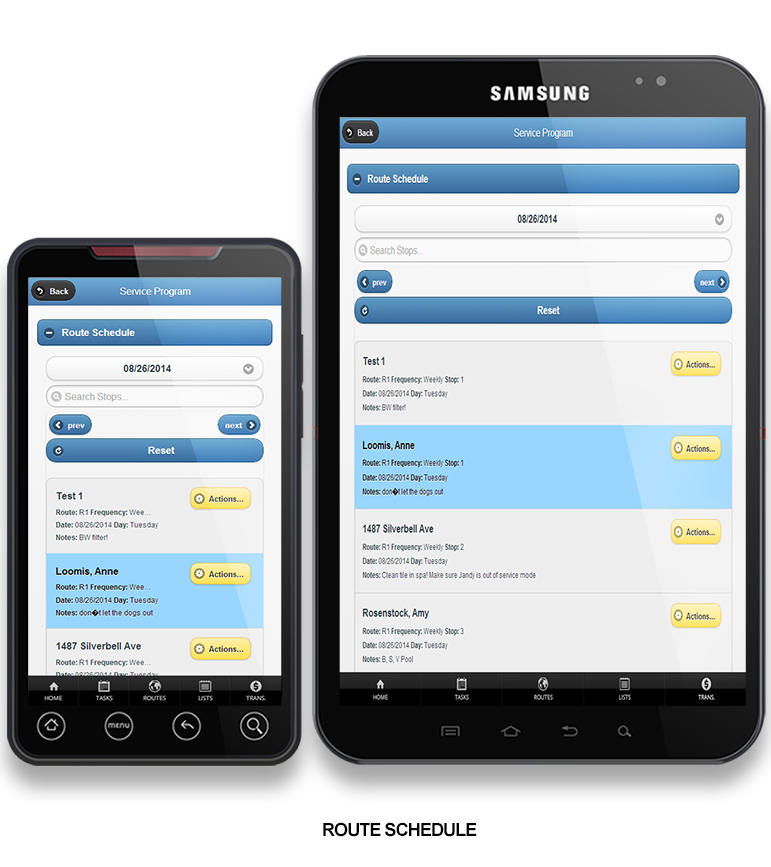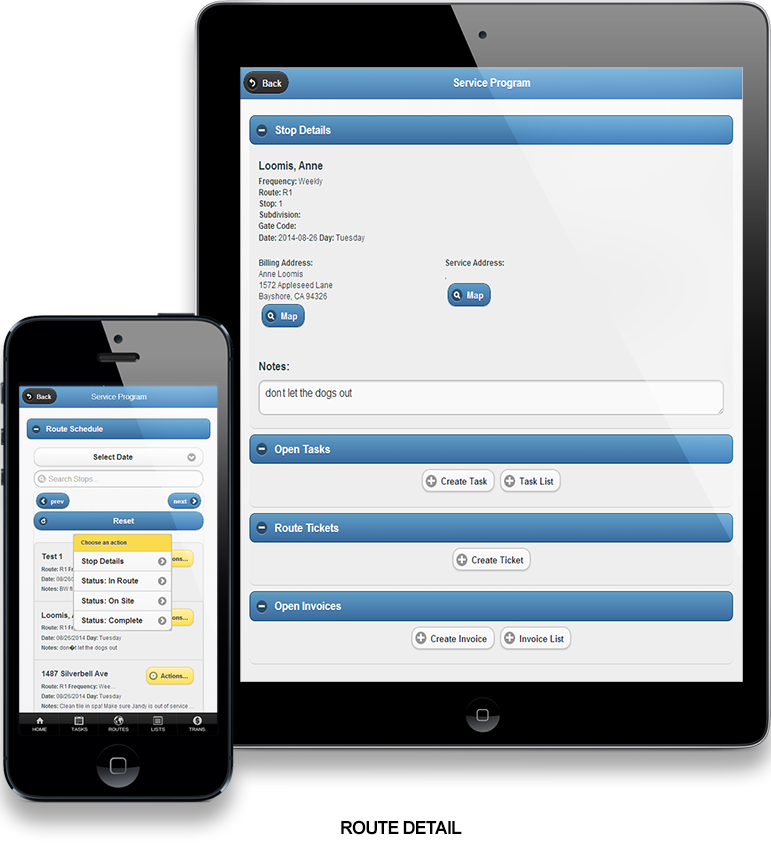 Route Detail
•Displays route notes and specific info regarding stops
•Create a task, route ticket or invoice right from this section of our service software for QuickBooks
Route Ticket
•Record arrival/departure time
•Enter chemical readings and what was added
•You define what chems you want to track!
•Readings can be emailed to the customer
•See last readings by field (press the yellow i)
•Group like readings and checkmarks into 3 collapsible grouping areas
•Bill line items into QuickBooks (like stabilizer, filters, acid etc)
•Each customer can have their own unique pricing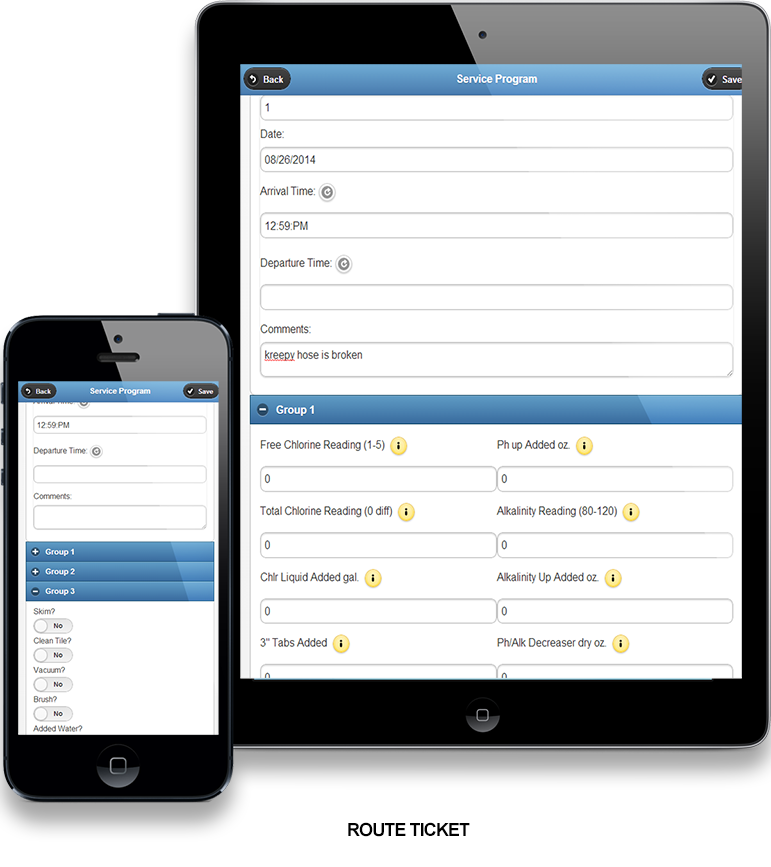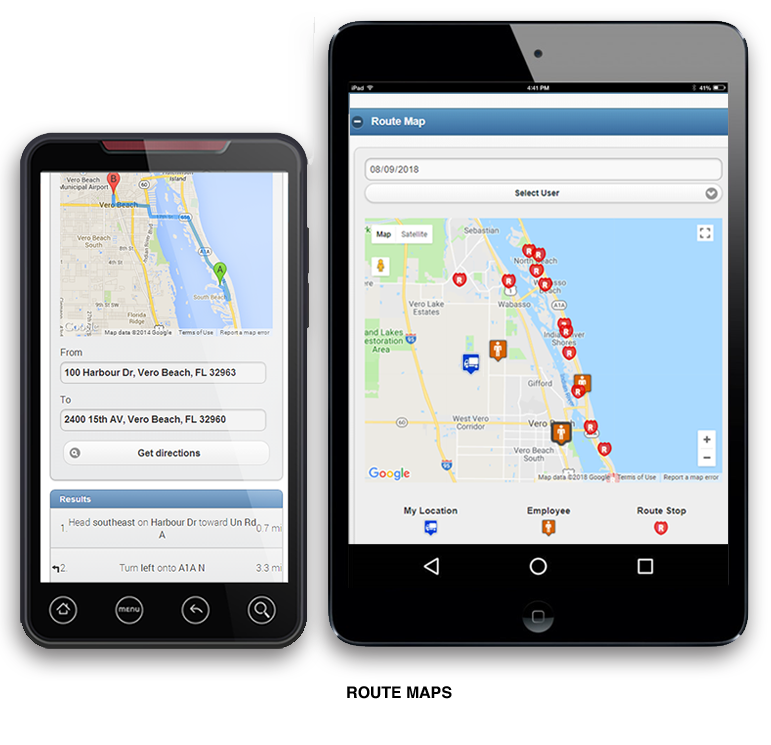 Map Stop
• Map from where you are standing to the next stop
• Ideal for a tech filling in for another or if new route stop is added
• Displays all of customer's route stops
• Live updates of driver's and other employees' locations
• Manager able to filter by each field user's schedule
• Uses Google™ Maps
• Unlimited stops & unlimited field users
Task List
• Show all tasks pending for a tech
• Managers can see all tasks for his/her people and filter accordingly
• Tasks are color coded (red is past due, yellow is due today, green is due after today) within our service software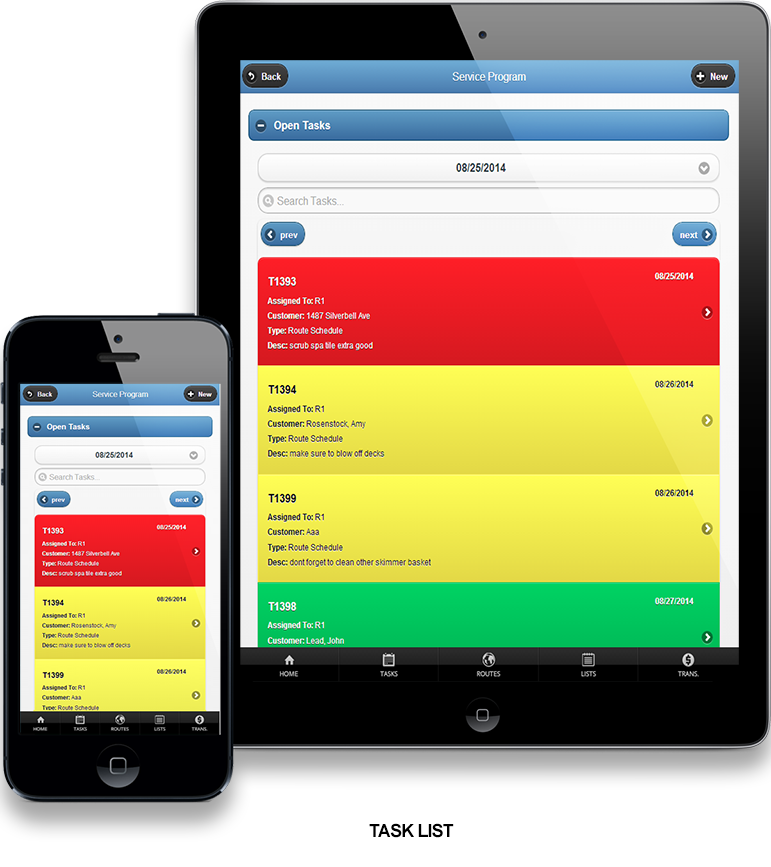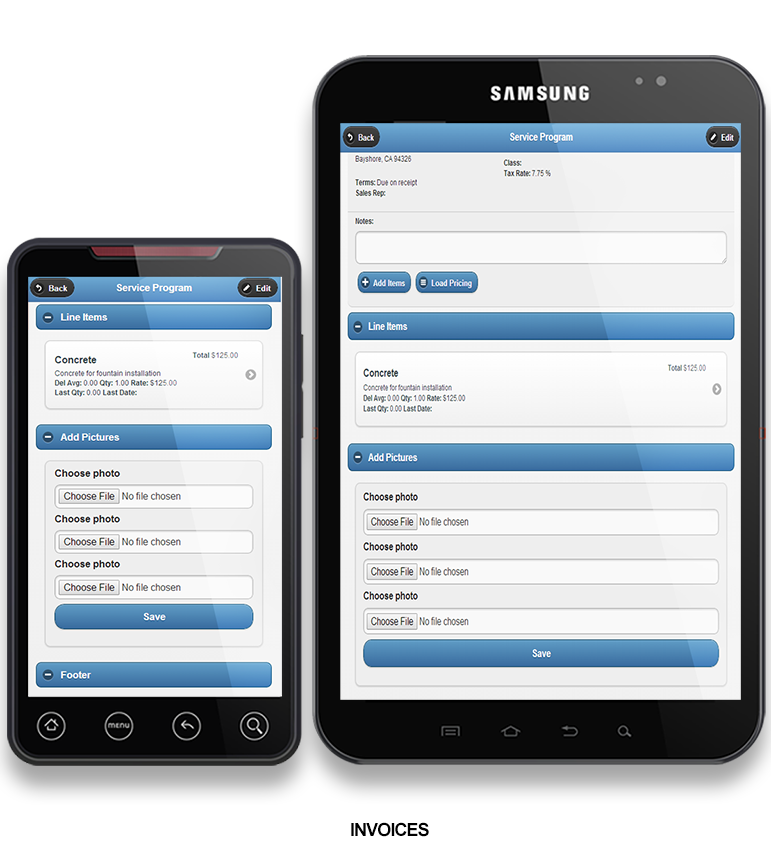 Invoices
• Create invoices in the field
• Email or print invoice in the field
• Load customer pricing
• Signature capture
• Attach photos to invoice
Customer List
•Limit what customers and a tech can see
•Limit who can make changes to accounts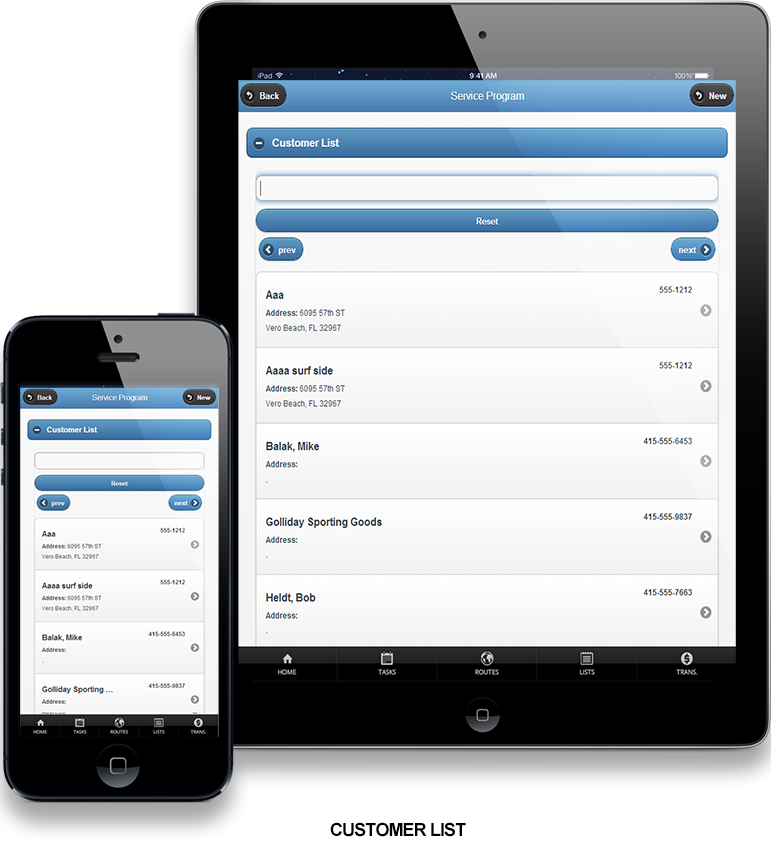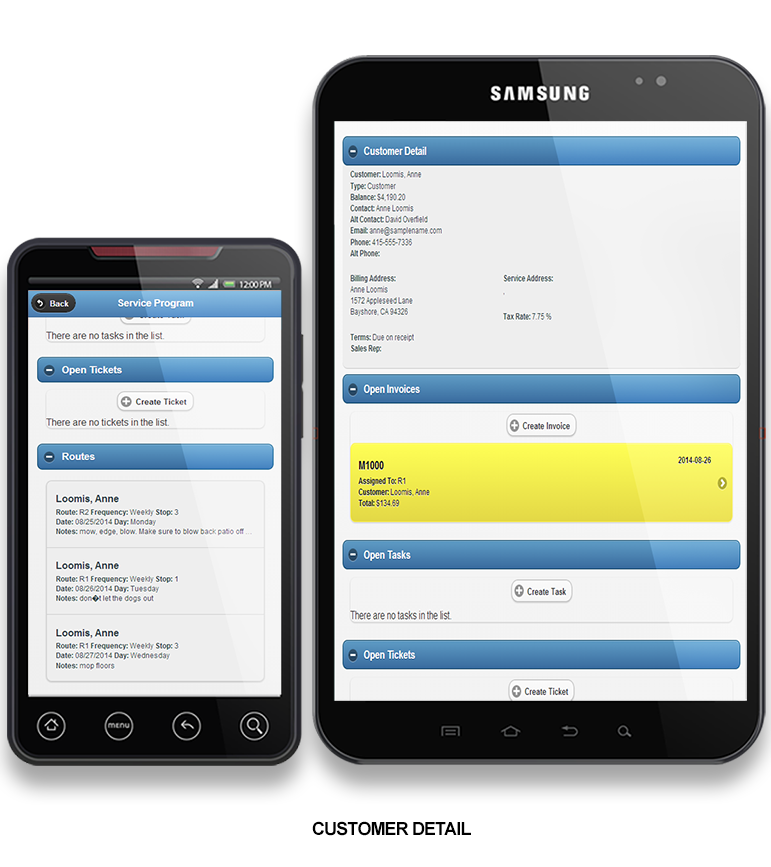 Customer Detail
•Create a transaction from customer detail
•See what equipment customers have
•See service history for a customer
•Track up to 25 customizable fields per customer
Features And Benefits
Following are some of the pool service and maintenance tasks that The Service Program can help you record, track and manage and report to your residential and commercial customers, if appropriate:
•Document what services are performed each visit
•Customer can exist on multiple routes on multiple days
•Record time of day and weather conditions
•Keep track of equipment checks, maintenance and repairs
•Create routes
•Track houses by subdivision
•Analyze route profitability
•Track chemicals and supplies issued to routes and track their inventory and usage
•Track customer pool and spa equipment, including maintenance agreements and warranties
•Track Chemical usage on a per stop basis
•Create checklists to accompany routes or work tickets or both
•Print custom mailing lists based on subdivision, who has what equipment
•Managers can view entire route schedule from their smartphone or tablet to be able to check on routes as they are in the field
•Seamlessly email customer and/or property manager after a stop
•Email a customer and/or property manager after work has been performed at a location.
Get information about the many benefits of The Service Program and how it can help organize and grow your business.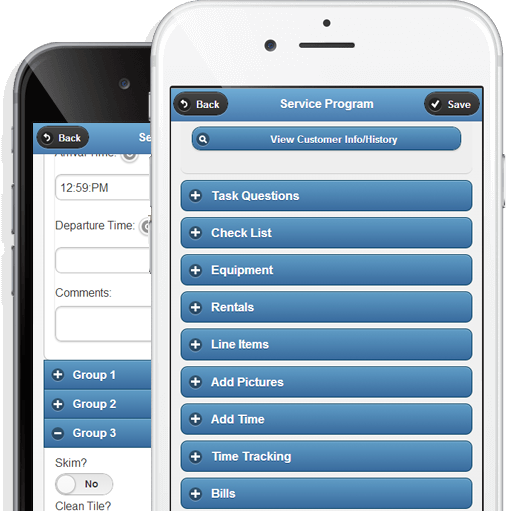 What are you waiting for!
Order The Service Program today.
Your success is important to us. We guarantee your satisfaction with superior software integration, free weekly training and yearly support.