Integrates with QuickBooks
The Service Program was created exclusively for QuickBooks™ users. As a QuickBooks plug-in, it enables you to add industry-specific functionality to your existing accounting software without having to learn a new program or manually enter existing data.


Save Time and Eliminate Errors

The Service Program seamlessly integrates with QuickBooks (2014 or newer, Pro, Premier, and Enterprise or Online) . Our Tech Support professionals will simply install The Service Program and it will synchronize with your QuickBooks. Automatically import all your customer records from QuickBooks with one click! Not only will you save time by not having to enter data twice, but you'll also avoid costly data entry errors.

In addition, The Service Program automatically synchronizes with QuickBooks when the first person logs in each day, so you don't ever have to wonder when they were last synched. Plus, future additions and changes made to customer records in either QuickBooks or The Service Program are automatically updated in both programs.

Generate Accurate Invoices

When you create an invoice in The Service Program, whether from a desktop PC or handheld PDA, it can be posted in QuickBooks, so there is no need for dual entry. And when you add an inventory item from QuickBooks, The Service Program will automatically deduct that item from its QuickBooks inventory records.

Take Advantage of Weekly Training Webinars

Take a look at the Weekly Training Webinars we offer.Our goal is to help you leverage the technology and tools you have at your disposal to improve your business operations. That's why we want to help you understand how to maximize the power and efficiencies of QuickBooks, especially when used in conjunction with The Service Program.

The Service Program includes licenses for two active QuickBooks users, but you can purchase license for each user license to access QuickBooks. You control who has access to your QuickBooks file. If you upgrade your version of QuickBooks in the future to a newer release, there is a nominal fee to link per PC.

Get information about the many benefits of The Service Program and how it can help organize and grow your business.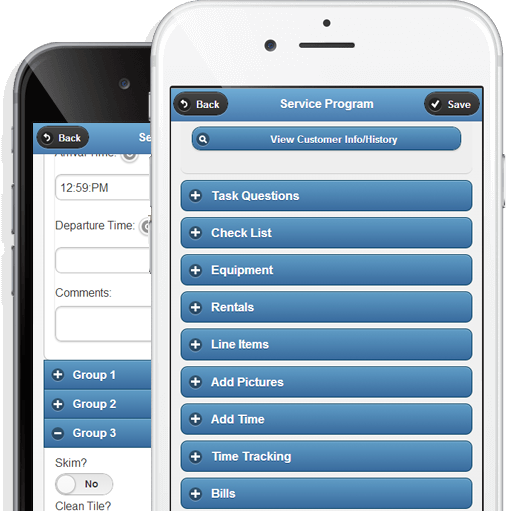 What are you waiting for!
Order The Service Program today.
Your success is important to us. We guarantee your satisfaction with superior software integration, free weekly training and yearly support.